What is Print on Demand(POD)
Print on demand sites becomes mandatory when your t-shirt business becomes bigger and successful. It is more effective to create designs based on demand. This tendency has extended onto a very wide range of products. Mugs, phone cases, pillow cases, shower curtains, floor pillows…you name it!
The print-on-demand type of approach is the norm now and competition is high. Artwork and graphic design sites have become a platform for artists to bring their best. And the customers are printing their favorite designs. It is the go-to solution for artists that don't want to deal with the hassle of printing, packaging, shipping and so on.
Because of the growing need for personalized gifts, people can get a one-of-a-kind product. A particular phrase, graphic, even a family portrait using a simple customization tool. There are also promotions and discount codes running on holidays or during the sale season. So it is always a good idea to regularly check out the sites for the best deals.
Therefore, I want to show you the most comprehensive list of major print on demand sites and what they basically offer. With pros and cons, I rounded up as much info as possible for each. I selected the most trustworthy sources and the most useful info to help you choose the option that fits you best.
Top print on demand sites
Pros:
High traffic that means greater exposure for your products
Great range of products to put your work on
There is a base price for each product to which you add your profit, so it's easy to calculate your earnings
uses Google Shopping to rank its products on Google – and these often appear at the top of the search results
re-targets the user, following his activity around other sites and pushing RedBubble ads/products
lets you see how users found you, how many views your products had and can connect all this with your Google Analytics account for an in-depth analysis.
Cons:
The big volume of designs, including copycats, can bury your items and make it harder to get exposure.
Pros:
Very responsive customer service
Great  exposure with over 30 mil visitors each month
A great number of ways to personalize items making them truly unique
you can set royalty from 5% to 99% to the Zazzle base prices
you can become an Associate, meaning you can earn even more by promoting Zazzle products
Cons:
The enormous amount of graphics makes your work harder to notice
Template preparation takes a lot of time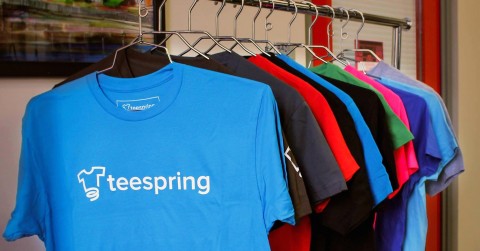 Pros:
you can make your designs inside the Teespring platform
even if you don't reach your goal, you won't be charged. And the campaign will be printed as long as there is a profit.
you can now integrate your campaign in Merch by Amazon.
Facebook ads seem to work best for this case
Cons:
you really need to spend time experimenting with your campaign and adjusting the goal, based on real-time feedback
some may find creating and promoting the campaign a bit cumbersome.
you will need to invest both money and time, researching your niche and them promoting it on all your social media channels/sites.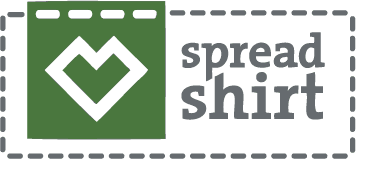 Pros:
They take care of the marketing and traffic for you if you choose Spreadshirt.com
Or you can open your online shop, by becoming a Shop Partner with up to 60% commission
You can fully customize your shop
You can have both kinds of shops
Cons:
when you choose to open your own online shop you are responsible for the promotion and generating traffic;
some find Spreadshirt too time consuming in relation to the earnings.
Pros:
easy to use, the design is up on the site in a few minutes;
good ranking in Google;
they send daily newsletter which can drive traffic to your products;
monthly sales mean more sales;
Cons:
Lower royalties than RedBubble, for example. The price of a t-shirt is rather low compared to many other similar sites, which could devalue your work;
the usual $4 royalty is $2 for the first few days of a new t-shirt;
those monthly sales could also mean lower royalty.
Pros:
it is recommended for artists with original work, that could be categorized as high-end, with no specific intention to follow a certain trend/pop culture theme;
art prints are some of their best products;
the site will recommend the best sizes for your files in order to provide the best quality to customers
many types of products to put your work on
for customers, every week they run a free shipping day sale
Cons:
you can set your own profits for art prints, stretched canvas or framed art prints, but the rest of the products have default profit you can't modify;
there is a high level of quality on Society6, a niche if you will, so pop culture or simple text based design won't perform that well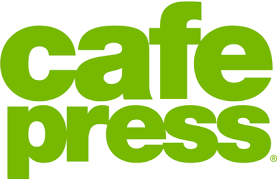 Pros:
you can set your own commission
high visibility with millions of visitors each moth
you can set up your own free shop
more than 250 product to put your work on
Cons:
you receive your commission initially set if people buy directly from your store. If not, you get 10%;
the site makes a bit harder for people to buy through your shop instead they will most likely buy through the main CafePress marketplace, by entering search words on the site.
tagging is very important, you need to test it a lot in order not to have common key words but also not abuse it;
it's up to you to promote your own shop to gain visibility and enjoy that big commission
Note: DesignbyHumans and Threadless print sites based on demand but they are more like a curated community, where not all designs get picked or printed. They are carefully selected by the site's teams according to certain quality requirements.
Pros:
there's already a very strong, supportive community, with a well-established public;
easy to navigate;
daily competitions with big prizes, including features on the homepage, artist of the week section, tee of the day etc;
very active in social media, ready to re-tweet user-generated content;
if your designs are accepted you join a highly appreciated community of artists;
student discounts all year.
Cons:
smaller variety of products to sell designs on, their strongest feature remain t-shirts (such as all-over models) ;
you are subject to changes, rejection that can happen anytime and you must accept them as such, with a possible hit to your income;
as with all POD sites, you never know who your public is, where they come from.
Pros:
In close competition with DesignbyHumans, it is the best place for themed t-shirt design competitions
you can now have an Artist Shop, with very good community support as well as Threadless guide for every step (for technical questions, sales, marketing etc).
The overall quality of designs is high so you are in good company
originality is highly encouraged by both the community and the Threadless team
the voting is solely done by users, themes vary from geeky, funny, to gaming, tv shows mash-ups or abstract
many, many products to design for
highly active on social media and interactive with the public
Cons:
after adding your profit products may come out as a bit expensive
as an artist you have to wait 30 days to get your earnings, because of the 30-day return policy
when joining sites like Threadless or DesignbyHumans your design needs approval from the team before being displayed (as opposed to Spreadshirt or CafePress where you can upload anything)
Seems like the discussion is ongoing and you can never know what works best for you until you try it. It depends on the quality of the design, quantity of work uploaded, time spent on promotion and financial expectation.
Certainly is that there is a place for everyone, a place that has the winning combination. We advise you to try and choose what is the best match for you. Have you tried any of these print on demand sites? How was your experience?